Tips To Help You Find The Living Room Carpet That Works Best For Your Home!
If you're currently looking for a new
living room carpet
and are having trouble narrowing down your top options, then you're certainly not alone. Living rooms are notorious for being difficult to decorate, and this is partly because we all know how these rooms are so important when it comes to tying together entire décor themes.
Below we're going over some important tips to keep in mind when you're trying to find the perfect living room carpets and rugs to match your home's existing décor and architectural parameters!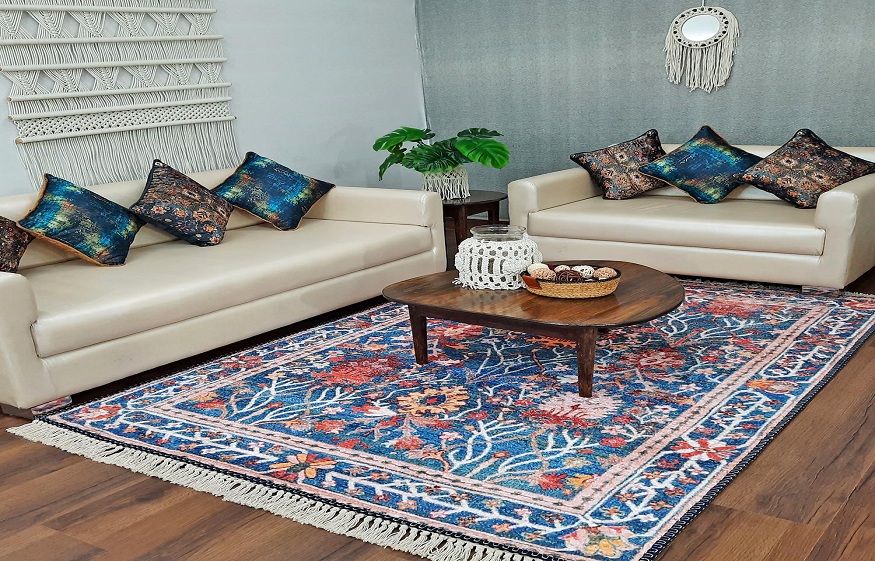 The Size Of Your New Living Room Carpet Is Crucial 
The size of your new area rug or carpet is very important, because you're not going to want to go too big or too small with this type of purchase. Although there are standard sizes that go into living room carpets, you're going to need to know the precise square footage of your space and how big you'll need to go to ensure that each piece of furniture at least has two legs on the carpet.
Although customized living room carpets are always available, it's likely that you'll want your flooring décor to truly shine with a unique, artistic carpet design. So be sure to do your homework and have exact measurements to help you narrow down your top options!
Living Room Carpet Patterns & Colors 
Your living room's flooring décor will ultimately have a huge impact on the ambience and overall feeling to your space. There are many tips to keep in mind when it comes to choosing the colors and patterns of your new living room carpet, including the following:
Patterned carpets and rugs provide added interest to your living room
Patterned area rugs are better at hiding dirt and other debris that could be caused by pets and children
Solid patterns/colors are great when your living room is already well-designed with eclectic accessories and artwork
Consider using a color or two from your existing décor when shopping for your new carpet
Texture & Materials 
It's also very important to consider how a living room carpet may feel underfoot, because you're likely going to be walking in these areas barefoot. It's also important to consider just how difficult or easy any particular rug may be when it comes to cleaning, because certain materials are a lot more durable than others.
Wool carpets and rugs tend to be rather expensive, but they pay for themselves in terms of their durability and stain-resistance. A lot of people are also considering synthetic rugs and carpets these days, because these options are more affordable and still provide great durability/style.
Finding A Living Room Carpet Has Never Been Easier Thanks To Online Outlets Like Rug Source!
It's completely understandable why a lot of people struggle when it comes to shopping for living room carpets and area rugs, because your living room is likely the place where you and your family/guests spend the most time on a daily basis.
We all want to get these investments absolutely perfect the first time, and the best way to do this is by teaming up with an experienced professional who's helped countless shoppers just like you in the past. Back in the old days, people would have to go to showrooms and carpet outlets to browse through a limited amount of options, but all that has changed with the Internet.
One of the best online outlets for living room carpets is Rug Source Inc., and you can get in touch with the Rug Source team by going through the link at the top of this article!